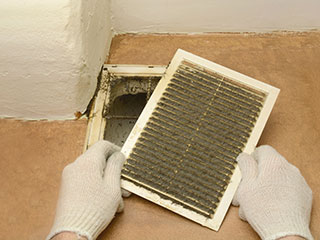 Many property owners make sure that their buildings are kept in good condition throughout, and ensure that any signs of disrepair or damage are eliminated quickly. However, it's all too easy to neglect one of the most important elements of any building. The air circulation system is so crucial to the health and wellbeing of occupants, as well as their comfort, that it should form the cornerstone of any property manager's to-do list. Your Carlsbad air ducts see a lot of trapped debris and dust over time. These accumulated residues begin to float and circulate inside your property if left uncleaned. Therefore, getting your air ducts cleaned every so often helps you keep your indoor air quality fresh, clean, and most importantly – healthy.
What Do Air Ducts Do?
Okay, so we all understand that air moves around our property. But it's not always obvious just how important circulation is. A free and continuous flow of air around a building plays a vital role in combating many of the most prevalent problems encountered in properties. For instance, the constant movement of air through a room helps prevent the buildup of spores and mold. Without good ventilation, this can quickly gain a foothold and can be very difficult to eradicate. Air ducts also help cool or heat your Carlsbad home by directing the cold or hot air through the ductwork. A leak in the air ducts will slow down this process significantly.
What Problems Can Ducts Develop?
As important as they are, ventilation systems are still susceptible to a wide range of issues. These can be caused by blockages, such as loose insulation or construction material, which prevents air from flowing easily through the system. Alternatively, ducts can become contaminated - mold can potentially grow in the dark, cramped environment, and vermin can sometimes be found in vents too. In either case, this can cause your ventilation system to actually spread contamination rather than to help fight it. You can also get a leak in the air ducts or a tear. This will let pollutants float into the room's environment and will make heating or cooling the room take a lot longer.
Clearing and Cleaning Air Ducts Thoroughly
It's almost impossible to see whether the vents in your property need cleaning or not. You can really only see a few feet in, and in many cases, the obstructions will be located much deeper in the system. The best solution is to schedule cleaning appointments at regular intervals - this ensures that any buildup will be caught before it begins causing a problem. You want your air ducts to stay clear of debris as much as possible. The less dust and debris inside your Carlsbad air ducts, the less the likelihood of other contaminants developing, and the fresher the air you're breathing.
Best Air Duct Cleaners Near Carlsbad
Ideally, your indoor air quality will remain at a fresh and healthy level on a daily basis. That's actually easier to achieve than some might think. Don't let your ventilation system become clogged, failing to circulate air, or even spreading contamination. Get in touch with Air Duct Cleaning Carlsbad today to schedule an appointment!