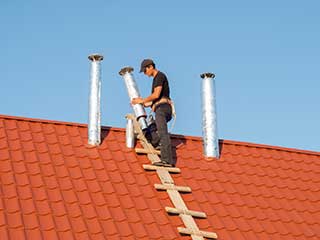 Over time it is common that your HVAC unit may need to be cleaned. Due to it sitting outside in the elements, a lot of dirt and pollutants can come in with the air getting caught in the unit itself. This can plague your unit with many issues over time warranting maintenance or repairs and it is important you have someone you can count on!
Quick HVAC Troubleshooting
When you are having problems with your HVAC unit but are unsure where to turn our technicians are here to help you figure it out. A detailed inspection and testing by our team will find what the cause of the problem is and how to solve it. So, there is no reason for you to lose sleep any longer because you are in great hands with us!
Easy Filter Replacement
Over time it is common and very important to replace the filter in your HVAC unit. It is also very important that your filter gets replaced correctly as well and allowing our team to do so for you ensures just that. Your filter is what helps keep your inside air clean and healthy to live in so needless to say it is very important to have it installed properly to keep it running optimally and efficiently. Our team is ready to help you get it done right.
Professional Repairs You Can Count On
Sometimes things just happen and you may need to unfortunately get a repair on your HVAC unit. When something like the compressor contactor gets stuck on your outside unit, it can cause serious damage. When your air conditioning is on, it will cause your outdoor unit to continuously run unless you shut off the breaker. The contacts can get pitted up over time and should be replaced by a professional, which is exactly where our company can help!
Need Us? Contact Us Today
If you have anything you need done regarding your HVAC unit, look no further! Contact Air Duct Cleaning Carlsbad today! You can count on us to help and be there when you need us!