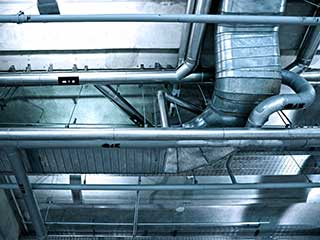 Should Your Air Duct Be Cleaned?
Unless it's already taken care of regularly, the answer is likely yes. Providing your building with heat, ventilation, and air conditioning is important. However, the process to do so involves drawing air into the duct, which is then distributed. This also draws in dust, allergens, and other substances that begin to build up over time.
These substances contaminate the air that is dispersed throughout the workplace which you and your fellow coworkers breathe in. Along with this, these clogs can also cause mold and bacteria to grow.
Not only does poor air quality cause a decrease in work output thanks to fatigue in general, it can also be very serious for those who have breathing conditions. Allergy sufferers will have to deal with itchy eyes and blurred vision, and it's far more harmful to the elderly or those with asthma. All of this contributes to less work getting done, which can really stack up over time.
Along with this, it's also costing you when it comes to your energy bill. Clogged air ducts mean that it's harder for the air to pass though, and requires more energy to do so. Overtime, this can cause your bill to rise.
We're Here To Assist You!
Our professionals are equipped with the best tools for the job that will allow them to quickly and thoroughly clean your air duct. Using an agitator that loosens the dirt that's built up, we will then easily vacuum it all up. This will leave your duct sparkling, and air free of contaminates.
It's important for this work to be done by professionals that you can trust, because if done incorrectly it can lead to those dislodged substances entering your workplace even more than before. With our company and its years of experience working in your area, you know that you're getting the very best! We'll take care of it swiftly, but never at the expense of being careful. That way, you can rest assured that you'll be breathing more easily after we're done.
Contact Us Now!
Call Air Duct Cleaning Carlsbad today so we can work with you to find the best time to come out and get right to work!