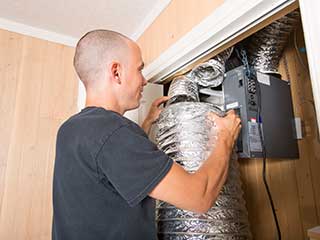 What Does It Mean?
While on the one hand it may seem self-explanatory, it may not be completely clear at first what an air duct cleaning is or why you might need one to begin with! We're glad to explain. Your heating and air conditioning that's used throughout the year brings in air from outside in the process. Unfortunately, this also pulls in other materials inadvertently, such as dust or dirt. These substances will build up over time in the ducts of your home, and contaminate the air as it passes through to be dispersed through the home. This can mean agitated allergies, troubles breathing for those with conditions like asthma, and fatigue in even the healthiest of individuals. Even aside from the health trouble, it also increases energy spending due to these systems having to run longer for the air to get through these clogged ducts. Regular cleanings take care of these problems!
We Use The Finest Equipment
We want to make certain that your ducts are completely cleared of any materials that may be stuck inside of them without making a mess or stirring the substances up to pollute your air further. This is why we use specialized equipment that will thoroughly remove all the dust and otherwise without allowing it to escape elsewhere. The clogs will be dislodged, then immediately suctioned up by our strong vacuum tools so that you can breathe easier again!
Repairs And Replacements Available Too
Over time due to age as well as wear and tear, your air ducts may require repairs or even to be replaced altogether. Breaks or holes can occur from an accident or pests, and disconnections can cause musty air from closed off parts of the house to enter the home. Don't worry! We can tend to these issues as well and get your ducts like new again before you know it using the best parts around.
Keep Your Household Healthy
Contact Air Duct Cleaning Carlsbad today to schedule your air duct service appointment and get them crystal clear.
We also offer:
Increase Dryer Efficiency